IT Services Provider & Products Distributor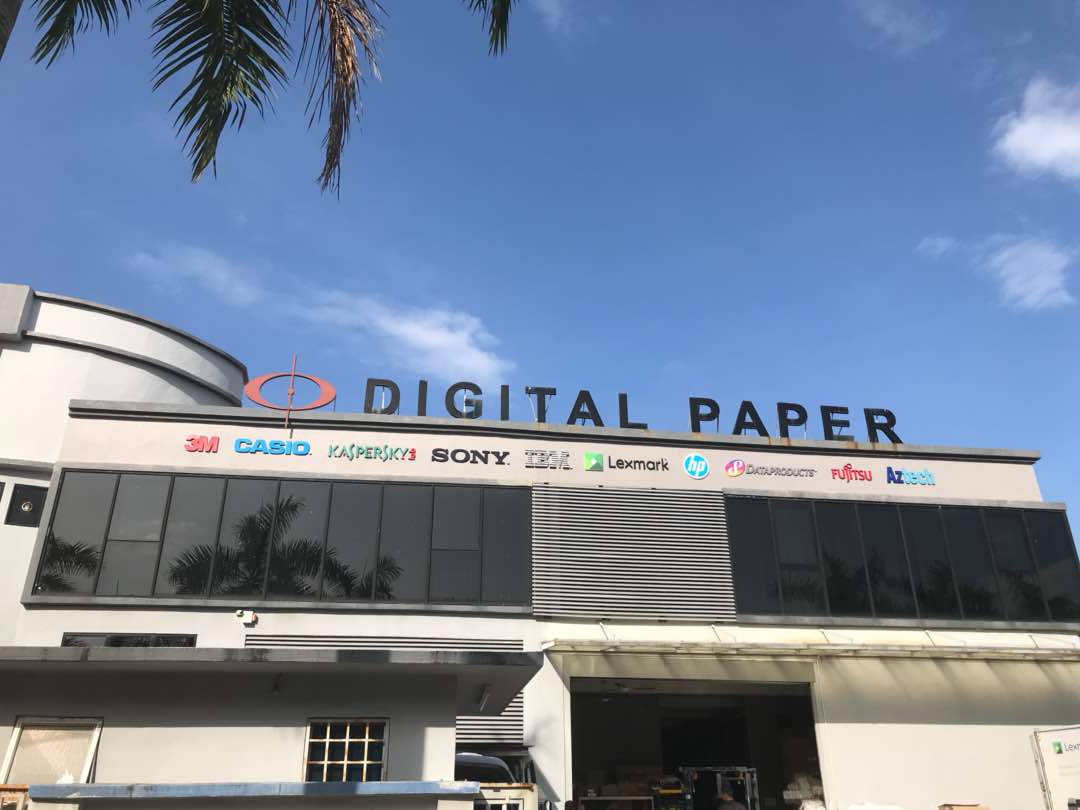 Digital Paper began its venture into the world of IT products distribution in November 1996. Its initial focus was only on distributing and managing Fujitsu Document scanners. Today, the Company proudly offers a wide range of innovative IT solutions at competitive prices while constantly upgrading their distribution strategies to meet the current demands of the market.
Along with a team of IT specialists equipped with years of experience in the fields of technology and support, Digital Paper is now established as one of the top IT product distributors in Malaysia. The Company represents more than eight multinational companies in the areas of marketing, support and distribution of their products nationwide in Malaysia.
Answering to the pace of the rapidly changing IT environment, Digital Paper ensures that it is always one step ahead to provide its loyal customers with value-for-money yet world-class IT products and services that never compromises on quality.
In a fast moving environment that places a premium on foresight, responsiveness and efficiency, Digital Paper is constantly improving its product offerings and distribution strategies. Serving one of the country's largest dealer networks, Digital Paper combines premier products and competitive pricing with unparalleled dealer support. The company's unique service and marketing strategy is aggressively demonstrated and marketed through the provision of innovative services. This may include:
The company's unique service and marketing strategy touches on:
Technical Product Knowledge and Product Integration Assistance
High-priority Lead Generation
Loan and Evaluation Equipment
Training for Sales and Technical Support Staff
Digital Paper distributes extensive line of high-end niche and mass market IT products. Three departments within the organization handle full range of the product lines.
System Integrator Division (SID) specializes in data storage solutions, office supplies and digital scanning solutions, while Chain and Retail Division (CRD) handles a complete range of stationary and consumables products. Copier Product Division (CPD) mainly focuses on managed Print Services and Unified Communications Solutions. Digital Paper is constantly looking for superior and leading edge world class product lines to gain greater market penetration in the ICT industry.
The organization delivers high quality products and superior customer service to their valued customers, and creating strong bonds with them and this clearly differentiates Digital Paper from its competitors.
Digital Paper Solutions Sdn Bhd
Offers advanced MFP's (MFP-Multi Function Printer that prints, copy's, scans and faxes in both colour and mono) for small/medium and large scale commercial situations with comprehensive packages encompassing procurement, maintenance and servicing for periods ranging between 3 to 5 years.
Product & Service
Offers advanced MFP's (MFP-Multi Function Printer that prints, copy's scans and faxes in bot colour and mono) for small/ medium and large scale commercial situations with comprehensive packages encompassing procurement, maintenance and servicing for periods ranging between 3 to 5 years. We provide customised solution to fit your business needs. And as your business partner, we tailor to your growth with optimized, cost-effective and scalable systems. Our innovative solution also integrates latest technology to enable cloud printing, mobile printing and other intelligent workflows with safe & secure document management.
Zero Investment
We understand that not all start-up kicks-off equally equipped, but we can propel you ahead with the basic necessities to get you going. Our consultants would be glad to advise you based on your usage and requirements. We even have temporary solution if you foresee a spike in workload on certain period. 
Repair & Maintenance Cost
Rest assured on our reliable services with 60 fully trained and experienced technicians & engineers nationwide. Backed by more than 24 years of experience in digital paper management, we have the upperhand in repairs and maintenance.
DP Business Solutions Sdn Bhd
A subsidiary of Digital Paper Group who dedicated to provide global manufacturers and distribution company with products and services that strengthen their enterprise and add value to their business.
What We Do
We specialize in delivering QAD Enterprise Resource Planning (ERP) to help businesses stimulate sustainability and growth. We advance and add value to QAD's leading business solutions and client relationships by ensuring that companies get the highest level of attention, expertise and results from QAD Enterprise solution. We have proven track records in implementing the ERP solutions for multi-sites worldwide.
Our Mission
Our mission is to maintain the status as a forward looking technology company which works closely with customers and technology partners to achieve cutting-edge business excellence.
Our Team
DP ERP team is devised out of many years of ERP experience in implementation, solution design, consultancy and support services across various industries.. By leveraging of the experience and domain knowledge gained from past implementations, we have differentiated ourselves as the leading solution provider of QAD solution provider in Malaysia.
We Offering a full spectrum of IT services from Software Development, Product Development, Strategic Outsourcing (ICT & BPO) and Technology Consulting services to support clients across Asia Pacific. Blue Ocean IT has built its core competencies aound both Microsoft and non-Microsoft application development platforms.
Services
Software Development: Implementation and support
Technology Architecture Professional Services & Consulting
System Migration Service, System Integration Service, System Maintenance services
Product Development (Specialized Application/ Mobile Application (Android / IOS)
Products
i. PaperlogicTM
ii. StealthMPSTM
iii. Vims
iv. Minna
v. iStorage
Tell us how we can help you!