30 Days Money Back Guarantee (30DMBG)
At DYMO, we believe that customer service begins before you purchase your DYMO products and never ends, even if you decide it's not for you. So each of our products comes with an unconditional 30-day money back guarantee that means exactly what it says. If for any reason it doesn't live up to your expectations or meet your needs, you can send it back for a full refund of your purchase price.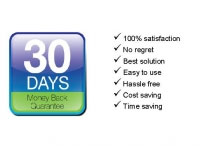 Mechanics
1. 30DMBG offer is a commercial gesture directly between the brand and the user of the product.
2. Meant for end-consumers and does not apply to dealer, resellers and distributors of the products.
3. Applicable for DYMO electronic products.
4. Excluded from 30 DMBG refund are consumables, accessories or software that are sold separately (i.e, not part of the product).
5. Refunds will be executed directly to the end-consumer (not to the reseller).
6. The refunded amount is based on the price the end-consumer paid for the product only (excluding all kind of services that the reseller may have included in the price on the receipt/invoice).
7. The refunded amount does not include the shipping costs the end-consumer has paid upon purchase.
8. Should the price of the products cannot be clearly identified on the receipt invoice, it will not be accepted.
9. The refunded amount will not be more than the retail selling price or promotion price if applicable.

Procedure
1. The end-consumer needs to return within 30 days from the date of purchase of the product.
2. The end-consumer needs to send back the product together with a copy of the proof of purchase.
3. Only original proof of purchase are valid, Photocopies will be declined.
4. The returned products should be complete, in good shape and non-defective.
5. Returns that don't include copy of proof of purchase or do not comply with the above conditions, will not be refunded.
6. Refund lead-time will be paid through cheque within 4-6 weeks.
7. Information to be included when requesting for refund : Full name (As per Bank Acc), contact no & mailing address.
8. Newell Rubbermaid (M) sdn.Bhd, reserves the right to change, modify or amend the condition herein at any time without prior notice.